Researcher Spotlight
This resource showcases some of the researchers who are focused on anti-human trafficking efforts. Are you a researcher focused on human trafficking or do you know someone we can highlight? Click this link to apply for an interview and have the chance to be featured on our researcher spotlight.
Dr. Hanni Stoklosa
Attending Physician at Brigham and Women's Hospital, founding CEO of HEAL trafficking, instructor on Emergency medicine at Harvard Medical School, and much more. Dr. Hanni Stoklosa is a brilliant leader in the field of anti-trafficking. Her dedication to serving others through her work is clear.
Dr. Stoklosa was raised with a heart for service. She recalled, "very early on it was instilled in me that my life was not for myself, my purpose for living is to serve others." As Dr. Stoklosa found herself asking the question "What does the world need from me?", she felt that becoming a doctor would be the most impactful way to use her energy and skills both in the world and for the world. While her early work focused on gender based violence and intimate partner violence, she moved into the anti-trafficking field after data was coming out that the majority of trafficked people access healthcare.
As Dr. Stoklosa began her journey into understanding human trafficking and its intersection to heathcare, she began to look into what other researchers, advocates, and professionals were already doing in the field. It was then that she met the core founding team for HEAL trafficking. Her team is made up of the "amazing champions and advocates for healthcare across the globe" that she had connected with at the beginning of her journey into the field of anti-trafficking.
As Dr. Stoklosa described, HEAL trafficking focuses on two different goals, operating out of a mindset of community. The first goal is to shift the conversation of Human Trafficking towards focusing on the intersection of public health and traffciking. Building up the capacity for health care systems and professionals to address human trafficking is essential to fighting trafficking. The second goal of HEAL is to work on building up the critical thinking skills and research literacy of the people and organizations in the anti-trafficking movement. In order to prevent programs that may be built on good intent, but actually cause harm, it is important that people really understand what statistics and research mean.
With conviction, Dr. Stoklosa believes that "we can have a world healed of trafficking someday." She believes there is a path towards reconciliation and justice, if "We are able to put aside our own ideologies and really listen to one another." Dr. Stoklosa finds hope wherever these  "courageous conversations" are taking place.
---
Dr. Laura Murphy 
Dr. Laura Murphy is a professor of human rights and contemporary slavery at Sheffield Hallam University, located in Sheffield, United Kingdom. Her research focuses on trafficking and forced labor across the world. From her lively attitude to her deep passion for efforts against trafficking, Dr. Murphy is an example of the wonderful people behind critical research. Author of The new slave narrative: The battle over representations of contemporary slavery and Survivors of Slavery: Modern-day slave narratives, Dr. Murphy has used her research to bring the experiences of survivors of trafficking to light.
Dr. Murphy has a background in English literature as well as African and African American studies. Her transition into the world of anti-trafficking can be traced back to her PhD in African and African American studies. Dr. Murphy had been studying African depictions of the transatlantic slave trade. In the midst of her work, she began to learn about contemporary forms of slavery. In fact, upon reading an article from the New York Times comparing trafficking today to the transatlantic slave trade, Dr. Murphy was forced to question what modern day slavery really looked like. She said "I realized I could not keep working on historical slavery when there were people who were forced laborers today." This new revelation guided her towards research and work in the field of forced labor and trafficking.
An educator to her core, Dr. Murphy finds her vocation in teaching both her students and the community via her research about forced labor and trafficking. Naturally she has taken the role of sharing her passion and knowledge with her students. Her work as an educator is fueled by hope. In fact upon reflection, Dr. Murphy sees her passion for education as a declaration of hope for the future, "My job as an educator is bound up in hope. The day you stop having optimism about humans is the day you have to stop being an educator."
Yet sometimes, hope can feel faded when work in the anti-trafficking field is overwhelming. Dr. Murphy explains, "It is easy to convince yourself that you don't deserve a break or fun or joy, but those who are being harmed do not wish us harm. Working ourselves into the ground or the hospital benefits no one." When it comes to selfcare at work, Dr. Murphy finds great importance in taking long walks with her dog (which she advises every researcher to try). With honesty and compassion she encourages her students to understand that work is not everything and it is okay to rest. She reminds them that they cannot do good work if they are not taking care of themselves, whether that be dancing in the streets or playing with their dog.
Dr. Murphy is currently working on creating large data sets on the forced labor of the Uyghur populations in the north-western region of Xinjiang. Her goal is to create a data set so comprehensive that companies, governments and consumers cannot be ignorant to the origins of their products. Dr. Murphy and her team are building a team of academics who are working to build up this data. She looks forward to watching her team grow. Her work is critical to bringing forth change for those in the Xinjiang region. Dr. Murphy has produced research and writings that have helped many to understand the realities of trafficking. Her work springs from a love for education and a passion for fighting for justice. She is one of the many brilliant stories behind the research that drives the fight against human trafficking. For more information about Dr. Murphy's research and career visit researchgate and the Sheffield Hallam University's webpage.
---
Dr. Lara Gerassi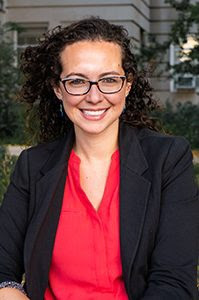 Research in the field of exploitation is essential to understanding how to identify and combat trafficking as well as walk alongside survivors. What often gets missed is the people and the passion that drives this critical research. One such researcher, Dr. Lara Gerassi, is an assistant professor and researcher at the University of Wisconsin-Madison. Her research focuses on changing outcomes for those who are involved or at risk of sex trafficking. Her most recent work Have you ever traded sex for money or drugs?' Health care providers' perspectives on sex trafficking risk assessments in clinics was published in March of 2021. It focuses on understanding the "perceived barriers to sex trafficking risk assessment among health care providers in a large health care organization." Her work does not stop there; alongside her published research, Dr. Gerassi mentors and teaches the next generation of change-makers at the University's Sandra Rosenbaum school of social work. She instills in her students a passion for people and brings light to the truth behind trafficking.
Dr. Gerassi was first drawn to social work in high school after being placed in the Natural Helpers program. In the program, she saw the challenges students were going through and began to see both the lack of structural support and oppression that exist and affect the outcomes for students. In her social work training, she learned about trafficking but thought of it as an issue far away, not something happening in her community. After discussions with people who have experienced exploitation, she soon realized that trafficking was entirely different than what she thought. Dr. Gerassi began to ask questions about what trafficking looks like in the United States, in her state, her neighborhood. Her work started with the hope of dispelling some of the commonly held stereotypes of trafficking, traffickers, and survivors that come in the way of positive change. When asked about some of the most impactful moments of her career, Dr. Gerassi replied that several small conversations with others in which myths about human trafficking were dispelled had been one the best moments of her career. This is why research like that of Dr. Gerassi is essential; understanding the truth behind what trafficking looks like is one of the first steps towards effective change.
As those who work in the anti-trafficking field know well, the work can be weighty. For Dr. Gerassi, it is essential to hold firm boundaries between work and family time. She takes time to do the things she enjoys, like running, baking, and spending time with her family. She also emphasizes how important it is to examine collective community care. She recognizes that self-care is a privilege since it often takes time and resources, which many do not have. She believes it is essential to look at how we can hold space in the workplace and take care of each other by structuring policies and norms to take care of each other while examining power structures that contribute to unhealthy boundaries. Another important aspect of caring for our community is finding professional groups that provide spaces for recharging work.
Feminist scholars like Kimberle Crenshaw and Patricia Hill Collins have inspired her work. These women and all the people who have lived experience with exploitation and continue to pursue justice and activism give her hope for change. Moving forward, Dr. Gerassi hopes to continue to create impact through her projects with a more hands-on approach. She wants to continue to be a good role model and mentor for her growing research team. Most importantly, she hopes to find balance as a working mom of two. Dr. Gerassi is an accomplished researcher, a passionate teacher and mentor, and one of the faces behind research in the field of exploitation. For more information about Dr. Gerassi or to explore her research, please visit this webpage hosted by the University of Wisconsin-Madison.
---
Dr. Carli Richie-Zavaleta
Dr. Carli Richie-Zavaleta DrPh, MASP, MAIPS, is an adjunct faculty member at the University of New England, where she mentors students through their capstone projects and practicum experiences. Dr. Richie-Zavaleta's
Research
focuses on the intersection of social and healthcare services with the goal of amplifying the voices of survivors to influence policy and best practices across the board. Additionally, Dr. Richie-Zavaleta supports the
Research
Committee for the San Diego County Human Trafficking & CSEC Advisory Council as an alternate co-chair and a
research
consultant. She is also the co-chair of the programming committee for the American Public Health Association's Human Rights Forum. Dr. Richie-Zavaleta's passion for her vocation shines through her work.
After her first Intro to Sociology class, Dr. Richie-Zavaleta was drawn to the field and inspired to pursue research by her Sociology professors. She learned from her professors and mentors showed her that research has the power to redirect attention and shape society. Dr. Richie-Zavaleta said, "I really liked that concept of using research one to bring out the voices of the vulnerable and using that knowledge to make changes in society." After completing her Masters in Sociology, Dr. Richie-Zavaleta was introduced to a program in Costa Rica where she studied International Peace Studies and Conflict management. It was on that trip where she felt divine intervention call her attention to human trafficking. "I did not want to study this topic, especially at the beginning, it brought a lot of sadness to my heart, and I felt very hopeless." After reading Dr. Kevin Bales's book,  Disposable People: New Slavery in the Global Economy, given to her by a friend, Dr. Richie-Zavaleta felt that God showed her that she needed to work with vulnerable populations like survivors and victims of human trafficking. Continuing on her journey to find the work she felt called to do, Dr. Richie-Zavaleta became interested in public health. She recalls translating for families on mission trips being a very impactful moment. After experiencing the lack of healthcare access in Nicaragua and Mexico in her travels, Dr. Richie-Zavaleta pursued her Doctorate of Public Health.
Since then, Dr. Richie-Zalvaleta has published her work, taught at colleges and universities, and mentored students, all while balancing being a mom to her two children. Dr. Richie-Zavaleta's studies on the intersection of public health and human trafficking such as "Compassionate Care—Going the Extra Mile: Sex Trafficking Survivors' Recommendations for Healthcare Best Practices" has helped inform healthcare facilities' best practices to notice the signs of human trafficking. Today, she is passionate about access to health care, the vulnerabilities of the homeless population, and bringing the voices of survivors to the table in order to influence training creating more "Evidence-based practices". Her work is currently focused on getting a few manuscripts published this year and mentoring students. She is also looking forward to a potential grant for a research fellowship. In the future, she wants to continue to mentor students and develop her vision for expanding healthcare access across the world. Her inspiring story reminds one to listen to their calling to and work with passion. She continues to pursue her work as she inspires and mentors the future generations of interdisciplinary change makers.
More Work by Dr. Richie-Zavaleta can be found
HERE
.
---
Dr. Lianne Urada, PhD, MSW, LCSW
Dr. Lianne Urada, PhD, MSW, LCSW is an Assistant Professor at SDSU in the School of Social Work, with a focus on Community Development within the Macro Social Work track. She is an avid and passionate researcher, involved in a wide range of many federally and privately funded grants. She serves as co-chair of the Research and Data subcommittee of our San Diego Regional Human Trafficking-Commercial Sexual Exploitation of Children Advisory Council alongside Dr. Monica Ulibarri. Dr. Urada's passion shines through her work of extensive research projects and experiences.
Throughout her education, she was greatly influenced by her professors. While she was always interested in social activism, she was encouraged to pursue her own journey of activism through research after working with a Professor who focused on the WWII Japanese American Internment Camps in the U.S., which also had impacted her family. After she went directly from her undergraduate program to the Masters of Social Work program at UCLA, she was given the opportunity to do an internship on HIV in the Philippines (where she returned later to do her PhD dissertation). This was when HIV was at its height, and prevention was a major point of interest. She conducted outreach to women in the sex trade who worked in bars, massage parlors, and nightclubs. Her eyes were opened through this experience to the prevalence of human trafficking and the sex trade, leading up to its intersection with the HIV crisis. As she worked in the communities of Manila, she began to see the societal and structural issues that impacted women's limited choices for employment that drove them into vulnerable situations. Thus, her eagerness to combat trafficking through intervention research began.
One of Dr. Urada's core principles is to actively and continuously support the communities she interacts with. She doesn't want to be a helicopter researcher, taking off once her study is done, never to be seen again. Instead, she acknowledges the deep connection she creates through her field work and passionately dives into the issues that those communities may face in the future. In each study, her favorite part of the work is being able to have direct interaction with the people. While she was in the Philippines completing her internship, she was followed every day by two little Filipina girls during her commute to work. Looking back, she finds hope in knowing that those girls were able to know about the drop-in center where they could receive services. Just by being there and meeting the community members, she made a difference. She still can remember the stories of people who struggled yet survived. The time she spent there, doing direct ground work, will always have a special place in her heart.
As a continual learner, intervention strategist, and innovative woman, Dr. Urada creatively addresses the interrelated sector of community issues and their ability to be fought with intervention research. She looks out for those who are the most hidden and marginalized, those that may not have access to beneficial services. We look forward to her valuable contribution as co-chair of the Research and Data subcommittee, and the work she continues to do in combating human trafficking.
Find work done by Dr. Lianne Urada here.
---
Dr. Monica Ulibarri
Dr. Monica Ulibarri is co-chair of the Research and Data subcommittee of our San Diego County Advisory Council on Human Trafficking, which partners and coordinates efforts with HT-RADAR. The San Diego County Human Trafficking and Commercial Sexual Exploitation of Children Advisory Council has become a leader in San Diego County's anti-trafficking work since its establishment in 2011 by the San Diego County Board of Supervisors. HT-RADAR is connected to the Research & Data Subcommittee of the Advisory Council. The Co-Chairs of this subcommittee are: Lianne Urada and Monica Ulibarri. She is a Professor and Associate Program Director in the California School of Professional Psychology Clinical Psychology Ph.D. Program at Alliant International University – San Diego, and holds an appointment as a Voluntary Associate Clinical Professor in the Department of Psychiatry at the University of California, San Diego.
Dr. Ulibarri's journey began as a bright undergraduate student at Claremont McKenna College. Serving as a young research assistant, she was given the opportunity to collaborate on a study on HIV cases in a women's prison. During her interviews, she began to see common themes among the participants. There were either two scenarios presented, the partners had dragged the women into the situation that had them placed in prison, or they had done something in what they claimed to be defense of themselves or their children. This recurring narrative highlighted the gender-based violence that perpetuated these women's stories. This experience sparked her interest in HIV prevention and gender based violence, in which she adopted a public-health perspective.
Staying research-focused throughout her education, she worked in different realms on mental health, HIV prevention, and gender-based violence. Her journey led her to conduct drug research at UCLA as she built her portfolio for clinical research. She attended graduate school at ASU, eventually coming back to San Diego at UCSD to contribute to an HIV prevention study. Many of the women Dr. Ulibarri worked with were not trafficked at the time, but had typically had some involvement with being trafficked at some point. Around this same time, she began to hear more about the trafficking issue that San Diego faced. In 2013, KPBS had a story on it. She realized that this social injustice took place right in her backyard. Her husband was conducting a study on adolescent dating violence research, and he found that adolescent dating violence could be linked to gang affiliation. The connections just kept on coming, opening her eyes to the intersectionality between gender-based violence, HIV risk, and exploitation. She began her term as co-chair of the research and data subcommittee in June 2019 alongside Dr. Lianne Urada.
She encourages those engaging in trafficking research to persevere. While discouragement is oftentimes inevitable, it is important to remember that this work is a long haul that is worth the delay of gratification. With enough drive and time to persist through obstacles that arise, you can achieve your goal.
Although there have been challenges in her effort toward uncovering and calling out injustice, Dr. Ulibarri is continually motivated by the participants she works with. She appreciates the opportunity to give them a voice while empowering them to make a difference through their experiences. As a part of the team, they work together to holistically impact the world around them.
Find work done by Dr. Monica Ulibarri here.